Do you do bespoke or custom jewellery designs?
Yes. As a designer jewellery brand we can customise variations of what we already sell. Or we can also custom make you a totally new bespoke or custom item of jewellery. If you are ordering bespoke jewellery, please allow a minimum of 15 weeks for us to make it for you. We will discuss how long the piece will take when you order
Does Marilyn Tan Jewellery ship internationally?
Yes. All items are shipped from Singapore.
We ship internationally to most places in the world – including Australia, Brunei, Canada, Ireland, Indonesia, Japan, Malaysia, New Zealand,Taiwan, UK, USA
What packaging do you use?
We always strive to find sustainable solutions that still provide a luxury jewellery shopping experience.
All our designer jewellery pieces are shipped in a protective pouch, bubble wrap and a cardboard box. A fabric storage pouch, a jewellery polishing cloth and a card are included in all purchases.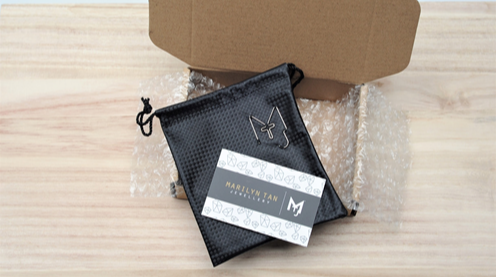 What are shipping charges?
Standard domestic shipping costs within Singapore are S$8
International shipping costs vary based on the item and shipping destination.
Some items are not eligible for international shipping due to customs restrictions.
We cannot ship items valued over S$20,000 or orders totaling more than S$20,000.
What are your shipping methods?
All orders within Singapore are shipped via UParcel
All International orders are shipped via our affiliate courier FedEx
All international shipments are insured up to US$10,000 by FedEx.against theft and accidental damage. Upon receipt of shipment and written acknowledgement, this insurance coverage ceases to exist.
How long are shipping times?
Domestic shipping within Singapore takes around 3-5 business days
International Shipping times vary depending on destination
Please choose Express shipping if you need your order quickly.
We do our best to meet short time frames but we cannot be held accountable for delays beyond our control, such as couriers.
We process and send orders during our main service hours, Monday to Friday, from 10am till 6pm Singapore time (with exception of public holidays). Singapore Time is UTC+8 hours.
Find UTC here
When we ship your order you get an email stating the courier tracking number. You can check the status of your order one to two hours after receiving the email, via the link provided.